15 Flares
Made with Flare

More Info

'>
15 Flares
×
Apparently I'm one of the few people out there, who likes to keep Christmas around as long as the Wise Men.
The festive coffee is gone.
The Neighbor we call "Santa" took his lights off his house.
People keep looking at me funny when I say, "Merry Christmas!"
…
Alrighty then, let's take Christmas away.  Know what we're left with? WINTER.
KNOW what's REALLY Awesome about Winter???
Oh, still here? I thought we were all hibernating for the next 3 months.  All of that white space, that wasn't snow.  That was just nothing.   Wouldn't Winter be awesome if it occurred in Summer???
Keepin' it on the Upside for 2013… So, Once again, some fun and "Cheap" things to enjoy about Winter.
I'm trying.
1.  The Dollar Movie. 
This one isn't so  winter specific, but be thankful it's out there.    With our houses so full of shiny new toys, a mom friend and I realized, we don't have any room for the kids to play.  And it's cold out.  And I'm so thankful that she's a mom like me- you know, the kindof mom who…. Her kids refuse to wear a coat outside, too.   We're off to the Dollar Movie today. We're taking 5 kids.  One's a BABY.  One's a TWO-YEAR-OLD.  One thinks he's a monster sometimes.  Oh, it is going to be epic.  And we are totally going to get our money's worth.  I just took a shower and put on real clothes and makeup.  THAT epic.
2.  Inflatable Swim rings and Boats.  
It doesn't snow much here, so, there's that.  I wanted to share a tip with my southern friends just in case it ever does.  No one here has  a snow sled.  A few stores sell them, for about 40 bucks, and they sell out fast.  Know what works, that we all DO have?  Inflatable Swim rings and Boats.  Trust me.  We tried laundry baskets and a whole host of other snow plowing items before stumbling on this one.  Added bonus? If you are about six months pregnant, you can put your big-belly through the middle and slide down head first.  OR just enjoy that moment to lay on your belly.
3.  Fun with Chalk. 
A lot of you moms are gonna flip on me, right here in a minute.  But take that minute to realize, you are stuck in the house, and you can spend all morning cleaning, to have every room destroyed five minutes after lunch anyways.  So step back, stop cleaning, grab a magazine, and hand your kid some chalk.    I discovered this by accident from the one who doesn't draw on paper. I was standing in the kitchen making dinner and she found a piece of chalk, then proceeded to doodle all over the kitchen floor.
But you know what? I could see her the whole time. She wasn't climbing on anything.  I made dinner in peace.  I needed to clean that floor anyways, and the chalk wiped right up.  And she was more entertained than any new Christmas toy.  Obviously.    Fun with Chalk.   Cheap-Mom recommended.
4. Charlotte Checkers
And for the weekend, when you absolutely must get out, find a minor league Hockey Team.  Yes.  I'm a Southerner.  I'm all things Duke's Mayo and Sunbeam bread.  If it does snow, I'll be staying home ALL DAY, enjoying myself a milk-and-bread sandwich (another joy of winter).  But if it doesn't- I'm headed to a hockey game.  Find yourself a reduced price ticket on a charity night, and head on over.
 It's Rowdy. As in, your kids don't have to sit still. They don't have to be quiet.  They can bang on the seats, or the glass. They can yell "CHARGE!" and not be offensive.  They can yell, "COME ON!, " and so can you.  It's Winter. We probably all need a little release.
Got a giant baby with her head currently glued together? Yeah? She'll fit right in among the players.  Nobody's gonna be judging you, or your parenting here.
Kids really bad?  Threaten to throw her in the penalty box.  Hey, it could work.
And there you have it.  The joys of Winter. A little cheap fun.  And by a little, I mean, a little.  Those don't work for you? Well, you've got one more option, find a cheap ticket somewhere tropical, and winter yourself away….
See y'all in the Springtime!

This is Part of a Theme Thursday.  To read more about Winter from other blogs, or to add a link to your own post,
click the button below.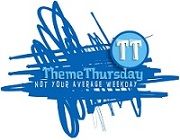 And since we really don't have anything better to do, how about taking a second to vote for me, pretty please?  If these frugal tips aren't top-blog worthy… Then you just don't like saving money!
15 Flares
Made with Flare

More Info

'>
15 Flares
×